The second Wemyss review this week, and the third will follow soon (of the new Bowmore called 'The Rock Pool'). This Blair Athol comes in a period of about a year or so in which quite some independent Blair Athols have been released.
I wouldn't be me if I didn't miss most of them. I only tasted one from Dutch bottler The Ultimate and I really didn't like that. Way too sweet and too much like the syrup you create when making stewed pears. All flavors were pear, cinnamon and cheap port wine. Not my cup of tea.
Then this one from the Highland distillery. A fruit fool is an English dessert of fruit and custard. I just looked this up since I didn't get the name and now the name seems a lot more appropriate than before.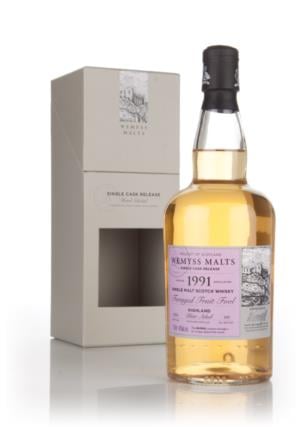 Sniff:
It's quite malty at first, with some white oak in there too. I get hints of vanilla and creme brulee. It's very fruity with galia melon, Doyenne pears and a hint of chili pepper heat. It gets more sugary and sweet after a while.
Sip:
The palate is warming with flavors of San Francisco biscuit (this is a vanilla flavored biscuit you can get here). A light hint of pepper, malt. Hints of white bread and corn bread. Pear again, as well as melon but with the addition of more tropical mango and papaya. Creme brulee and strudel with vanilla sauce.
Swallow:
The finish is very consistent with the palate and just gently fades all those flavors. It is slightly lighter though with a new fruity hint of white grapes. Quite long.
Apparently my hints of fruit are not the same as the tasting panel's at Wemyss. At least I don't generally reckon mango and melon to be forageable fruits. Anyway, the vanilla flavor and slight layer of bready flavors send me more towards biscuits than to custard, but I can get into that.
It's a really good dram, this. The fruits are great and diverse. The background of those fruits it lovely with malt, bread and pepper. There's quite something to discover here and I really enjoy that. Tasting this blind I don't think I would have guessed this at 46% but slightly higher, towards 50 or so.
In short, I love this one!
Blair Ahtol 1991-2014, 46%, 'Foraged Fruit Fool', Wemyss. It was released in the UK only yesterday and the price sits at £ 112 (slightly over € 150)
Thanks to Wemyss for the sample! Loved it, guys!