When I think of Murray McDavid I think of Bruichladdich's finishing regime, or ACEing as they like to call it.
Random whiskies bottled after being finished in off-kilter wine casks. Caol Ila from a Chateau d'Yquem cask, or anything going from there. I know that they have all kinds of great whiskies available from 'normal' casks too, but that's just not what comes to mind initially.
Their Mission Gold range should be the range they're known for since that contains some really, really epic whiskies. Quite expensive overall, but what isn't nowadays?
Anyway, this Bodach Aislig blended scotch came out a few weeks ago, as far as I know, and someone in our little bottle-share club shared it. I bought a 10 cl sample. Mostly because you don't often get to see a 35 year old whisky for a price like this, even a blend.
And by 'even a blend' I do not mean that to make blends sound inferior. It's just that those are or at least should be cheaper than single malts since grain whisky is dirt cheap to produce.
They even produced the list of contents, without exact ages to not upset the SWA and they also omitted the precentages. Here's the list:
Glenrothes
Glengoyne
Bunnahabhain
Tamdhu
Cameronbridge
North British
Port Dundas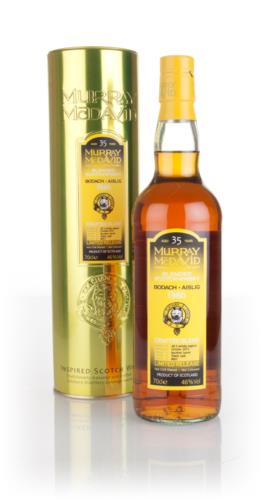 Sniff:
Old with quite a lot of sherry, leather and some other dirtiness. Plums and dried dark fruits. Dry spices too, with toasted oak. Slightly sweet because of all the oak and sherry casks. Overripe banana, a tiny bit of sulfur. And that 'old' scent.
Sip:
The palate is dry and slightly bitter with all the oak. Chocolate and mocha, heavy and sweet fruits. It gets drier as you let it swim and there's quite some sherry going around too. Lots of oak too, obviously, but not too much.
Swallow:
The finish mellows quickly. It's dry with lots of oak, lots of fruit and some spices. It's quite long.
Well, this is awesome. Blended whiskies are normally much lighter than this, in my experience. And while that can have it's charms, I really, really love this one for the heaviness and the weight it brings. The fruits, spices and oak works really well together and since they used whiskies that go well with sherry casks, that also did some tricks.
The weightiness, the dirtiness is what makes this dram work. If it was only the sherry and fruits it would have been quite 'regular', but now it's something special. Highly recommended!
89/100
Bodach Aislig, 35 Years Old blended whisky, 1980, 46%, Murray McDavid. Available from Master of Malt for £ 73.95 (only 74 quid!)