Okay. I promise this was the last FEW pun for now. I'm getting tired of myself everything I think one up and change sentences to accommodate the brand name as a word.
Anyway, I decided to do the gins in one go since I don't want to linger on it too long. I don't know too many gins anyway, not enough to do a comparison without anything to compare them to.
Also, while I like gin and have tasted some really nice ones over the last couple of years, I don't want to focus on it too much. Not entirely sure why, but the entire category of booze doesn't interest me the same way whisky does. I think this mostly has to do with gin generally being made of a pure / neutral alcohol with herbs, spices and fruits or vegetables.
I don't necessarily have a problem with that, especially since the resulting booze is so tasty, but because of that I find it quite hard to compare and assess, compared to whisk(e) that's just grains, yeast and water. As in, it's quite easy to make a 'different' gin without much technicality.
Without disrespecting the drink any further, let's get to it.
FEW American Gin, 40%
Contrary to Europe, in the United States gin has to be at least 40% ABV, whereas in Europe they often come in in the high thirties. This particular gin is made from the unaged bourbon from FEW instead of neutral alcohol. This makes for a more flavorful base alcohol.
There's a lot of scent on the nose, with a heap of juniper and some lime. Crisp, fresh and floral. Some wood spices after a couple of minutes with most cinnamon bark standing out. The palate is tingling with white pepper and dry spices. Lime zest is there, but the juniper is toned down a bit. Some bread, vanilla. The finish has vanilla, lemon, juniper and lime. It's quite rich for such a crisp spirit. Very nice! FEW Barrel-Aged Gin, 46.5%
This gin has the regular recipe but has been aged in charred oak barrels for a little while. Generally this is not more than a few months lest the oak overpower the drink.
The scent of juniper is pretty strong at first, but the mellowing notes of oak pop-up quickly. There's gentle oak with some vanilla and roses. Black pepper, cucumber and a scent that I can best describe as 'all star shoes'. You know, that plastic/rubber like nose they have. The palate is comparable but has a bit more pepper. Vanilla, roses and 'carbonisation', like in soda water. The finish is warming with oak, vanilla and cucumber. Some pepper and that flavor or rosewater again.
FEW Standard Issue Gin, 57%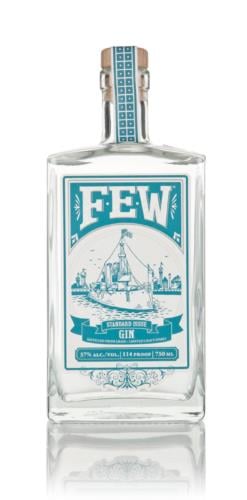 Sometimes called Navy Strength, this is the real deal. 57% for a gin is nothing scoff at. I think the 57% is based on the old Imperial 100 proof, which was used to test the purity of gun powder and/or the booze used in the process.
The nose suggests an 'impurity' that suggests pot still to me. As in, I think this hasn't been distilled to some 95% or so but kept lower and therefore retaining more flavor from the mash. This 'impurity' is a good thing, mind!
It manifests as a scent of beurre noisette, or burnt butter that's used in cooking. Again that all stars shoes scent, but also floral, crisp and cucumber. Quite sharp and after a while I get a mustard like spiciness. The palate is tingling again, with quite some pepper. It's crisp with lime, cucumber, roses and spices. That mustard again with a slightly dry and creamy feel. The finish is rather typical and the juniper comes out more, with white pepper (so heat, but not too much flavor).
Generally I would now start rambling about which one I like best of those three, and why. In this case it's kind of tough. Mostly because they each serve their own purpose. I think the Standard Issue works best in a G&T, because of its intensity. It's lovely and that spicy flavor is great. The buttery nose is something I didn't expect but makes for a bit more depth than anything else.
The Barrel-Aged one is the best sipping gin of these three, I think. This because it shows the most depth and complexity. I'm always afraid that the oak is too strong but that's not the case with it. It's gently and adds flavors and nuances to an otherwise delicious gin. Especially the floral flavor of roses was great.
Then the American Gin, which might be the most generic of the bunch. I think this could be considered the entry level one, but since the Standard Issue is a limited release, this one is its fallback.
What also helps is that I really, really love the labels. They're great. I'm getting those off the bottles for other decorative purposes when they're empty. Great stuff.
All three of these bottles are available at Master of Malt:
American Gin, 40%, € 50
Barrel-Aged Gin, 46.5%, € 53
Standard Issue Gin, 57%, € 60
I do think the Barrel-Aged is the best value for money.