Aaand another FEW review. I still have a FEW to go after this one, with three bourbons and two gins left. They'll follow soon but I'm thinking I might change things up a little bit before this blog starts to look like it's being sponsored by the guys from Evanston, IL.
Anyway, I was happy to find out that they chanced their hand at a Single Malt. There are quite some American distillers who do, but while some of them are atrocious, others are just rather bland and uninteresting. Luckily, there have been some quite acceptable examples. Think Balcones and Stranahan's. Neither of them will win top spot in my book, but both are acceptable and interesting in their own way. The Stranahan's maybe most interesting because of the huge weed/grass flavor on the finish.
Looking at this one's batch number (11-0004) you might expect that this one's three years old at the moment of drinking. Of course, I'm not 100% sure about the bottling date, but I don't think Master of Malt can keep this on the shelf for a year.
I do wonder what they were thinking in the name of the barrel being 'Hello Kitty', but according to Paul Hletko, it's fairly random what they write down in that area. Funny, and only slightly weird.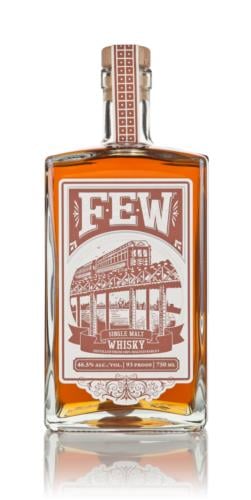 Sniff:
Young, with lots of barley scent (think sloppy mash) and a hint of new oak. The wood comes through with a scent like sawdust. There's quite a bit of fruit with banana, apple crumble and lemon.
Sip:
The palate has a tingle to it that's interesting. Flavorwise this goes heavily towards barley and a very youthful taste. Grist, barley, mash, the lot. Bananabread, oak, black pepper. Quite dry and spicy.
Swallow:
Spices and fruit. Barley, apple, banana, not overly long.
This is a bit of a tough one to 'rate'. Technically this is a pretty well made whiskey. A lot of the flavors are exactly what you would expect from a young single malt matured in virgin oak. Actually, it's a rather good one at that, and certainly one of the best American single malts I've tried.
Having said that, apart from it being good, it's not a whiskey that'll change your life or anything. By that I mean that for the money I'd rather buy a Scotch one. But still, kudos to FEW!
But then again, if they'd start making some aged versions that are older, I'd happily try them again in a bottle-share or so.
FEW Single Malt, batch 11-0004, 46.5%