Apart from the Rumble I also found a sizable sample of their Single Malt. I have no idea how their batch numbers work, but this one states "Sm12-10/2012-12-13". This could mean several things, depending on whether the 12-10 means December 2010, or October 2012, or even just a batch number from either year.
As I said before, I find it smart from craft distillers like Balcones that they produce drinks outside the regular spectrum, since you can't compare them too easily with anything else. Copper Fox does that too. Balcones, however, doesn't just do weird stuff like the Rumble and Brimstone. They also produce a more regular single malt.
Of course, this spirit is very young. But that doesn't have to be a problem. In some cases with craft distillers it is. The three year old Lost Spirits Leviathan was hideous, for example. And, contrary to many people, I also didn't like the one batch of St. George Single Malt that I've tried.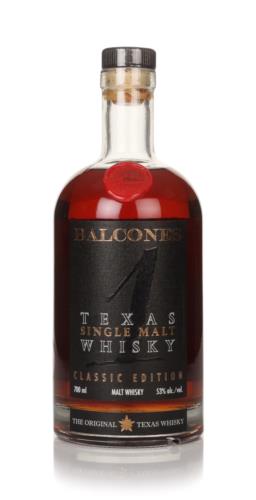 Sniff:
It's quite raw and rather oaked for something this young. Over oaked maybe. It is quite clear that it's a single malt though, with an unmistakable barley flavor. It's more gentle than I would have thought for a young, high strength whiskey. Oak spices, mostly.
Sip:
The palate is sharp with oak and chili pepper. Dry, apple peels, lots of oak and rather rich. It's not necessarily bad, but it's a bit out of balance.
Swallow:
The finish is rather long and quite gentle after the sharpness and heat of the palate. Creamy with some sweet fruit all of a sudden. Mango and banana style with, not surprisingly, oak.
So. What to say about this. The palate is a tad out of balance with the flavors being all over the map. Also, the palate and finish are far from consistent. No part of it is bad, as I said, but it just doesn't feel right either.
Another spirit from Balcones that I just can't really love, but which isn't bad either. It's the same with Rumble. So, nice, but no cigar.
Balcones Single Malt, 53%, Batch sm12-10/2012-12-13. I'm not sure about the batch number, but this one's comparable at Master of Malt. Expensive at € 101!