By going through my samples last week or so, I found some tiny vials of golden liquid that I had completely forgotten about. This Balcones Rumble was one of them, which is a shame. Not only because there might be a tasty beverage inside, but also because it would have been fun to review the 'Rumble' when things were really rumbling at Balcones.
There has been a lot of media exposure on the shit that went down in Waco, Texas between master distiller Chip Tate and his other board members. In the end it seems it came down to art versus money and that's never a pretty thing.
Everybody sued everybody else, which once more seems to be a normal thing to do in the United States. I think that, when two people are fighting, two people are at fault. But in this case it ended up with Chip Tate leaving the company and setting up a new distillery in the city. More booze for everyone, right?
Balcones Rumble is a unique spirit. I'm not sure what to compare it to, but I think it holds the middle between rum and brandy since the distillate is based on both sugars and fruits. Interesting, that!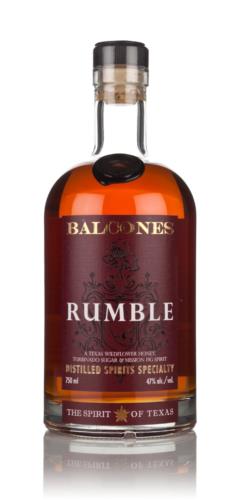 Sniff:
On the nose I get an oak influenced rum, but the oak influence reminds me more of whiskey than of brandy, somehow. It's sweet with sugar and some spices. There is a subtle hint of a smoke flavor (not actually smoke, like in an Islay whisky) that reminds me of barbecue and grilled pork. Not unlike Balcones' Brimstone has.
Sip:
The palate is very rich and sweet (no surprise with this consisting of honey, figs and sugar). It's more dry than I expected and slightly tingling. A bit of white pepper. The sweetness is very syrupy like honey of fig syrup. More fruit, but all very sweet. A bit of banana.
Swallow:
The finish is slightly sharper than the palate was, dry and oak, with that greasy barbecue flavor that I also found on the nose. Again, the oak reminds me of whiskey and rum.
I'm not entirely sure what to think of this. It's interesting, it's rather tasty and it shows more depth than I expected, but I think I'm a rather 'exact' person. I work in IT and like puzzles, and such. That means I like to categorize things and this one is very hard to categorize unless you diver to the 'other' category.
This is quite smart from the Balcones guys. Like their Brimstone, you can't really compare it to anything else and for craft distillers that is a golden goose I think. Most craft distillers that try to do what the big boys are doing in Kentucky won't really make it since you're just not going to shell out that kind of money for a random bourbon. Brimstone is in a league of its own. This one might well be too!
So, interesting, but since a bottle of this is about € 85, I find it way too expensive. These kind of 'brandies' should be much cheaper, in my opinion. Most booze should, but this is too 'random' to warrant that kind of price tag.
Balcones Rumble, 47%, batch R12-6; 2012-12-20.
Available at Master of Malt for € 85 / £ 65.50
Thanks to Gal for leaving the sample after Maltstock!