Last Friday JK and I hosted a booze tasting at work. We would have made it a whisky tasting, but due to some explicit requests to not only do whiskies, we ended up going through a gin and a mezcal too. Also, a Portuguese colleague of us brought some fruit based moonshine from his local area in the south of Portugal.
To decide upon the order of drams we had to try them, obviously, so I also got a chance to write tasting notes too. That'll be the theme for the coming week, the stuff we tasted at the Emakina booze tasting.
Springbank Green then. An almost organic whisky that just didn't go for the entire Organic label, since the distillery is not qualified as such. It's unlikely to happen since when the distillery was built in 1828 a thing like 'organic' didn't exist.
I don't expect the Mitchell family to start reconstructing parts of their working museum, since that would more or less kill the whisky as it is now. Springbank distillery is, I think, essential to how Springbank tastes and changing that wouldn't sit well with a lot of fans.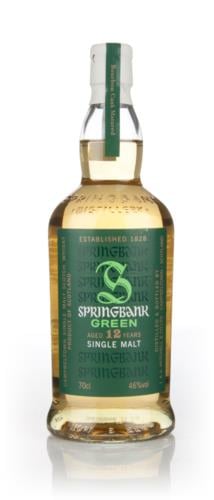 Sniff:
Its scent is rather green, with straw, hay, grass and some farmy notes. Slightly earthy with a hint of peat and salt. It's slightly dry with slate and a thing I like to describe as spring rain.
Sip:
The palate is smooth and gentle but shows mostly the same flavors as you'd expect from the nose. There's basalt and slate, the wet kind which you can smell. Ever so slightly salty with oak and some wood spices. Clove, I think. It does build up a bit with some minor peppery notes, apple both fresh and corky.
Swallow:
The finish is very typically Springbank with slight farmy notes, straw, barley, oak, salt and a touch of smoke with apple.
This is a rather interesting whisky. I think it's quintessentially a bourbon matured Springbank without much other influences. I'm not sure if the organic-ness of the barley really makes a difference, but the whisky it has produced is quite lovely though.
I do have to say that it's rather expensive for what you're getting. It'll set you back some € 70 and that seems to a bit steep for a 12 year old Springbank that isn't that special. And that's exactly the point. It's not very special. But Springbank that's not very special is almost always pretty lovely still.
By now it seems to be around € 80 at shops that still have it available.
Springbank Green, 12yo, 46%, available at Master of Malt for € 82.50.
Dutch company 'Best of Wines' has a whisky branch too, and they sell it at € 75