Well, it's about bloody time I tried one of last year's winners from the Malt Maniacs Awards, init? By checking the list again just now I found that I have not tried any of the gold medalists just yet, and by the looks of it this might be the only one. And I don't even have myself to thank for that. My mate Ben sent me a sample since we talked about the surprised of seeing an Inchmurrin making such a high placing.
Anyway, Inchmurrin is one of the whisky brands from Loch Lomond distillery and named for the small island inside the loch. This bottling is one from That Boutique-y Whisky Company which releases all kinds of semi-random whisky made with leftovers from bottlings, casks and what have you. This has so far resulted in some random releases with some truly awesome ones (I loved the BenRiach, Benrinnes, Invergordon and some others), and some lesser ones (in quite a few of the bottlings there was an inexplicable fennel flavor which didn't sit right with me).
Anyway, let's see what this one is about. It did win an awards after all.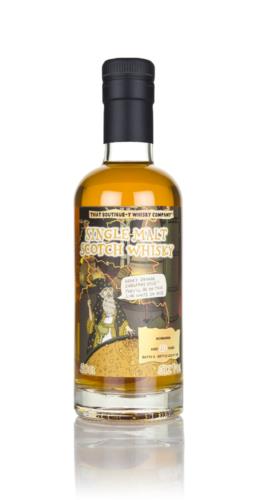 Sniff:
Apart from the huge blast of sherry, you get boat loads of malt. There's barley, the steeped kind, and a hint of breakfast cereals. The sherry is rather bitter with touches of caramel and a light whiff of smoke comes through too. It's quite powerful with dried tropical fruits like dates and figs. After a couple of seconds a surprise hint of lemon pops up.
Sip:
The palate has that smack of malt again, but more in the way of  bread flavors than of breakfast cereal. The sherry, with the dried fruits, is present here too, but it's not as bitter. A combination of pepper follows with white, black and chili. That citrus comes by towards the end too.
Swallow:
The finish is full and rich. Dry, with pepper, fruit and sherry. Bitter caramel, quite some oak. Lots of flavor in your mouth, but almost no burn in your throat.
I can see why the Malt Maniacs like this, since their apparently fandom of sherried whiskies. This is certainly sherried. It might even be a bit too much about the sherry for me. After tasting this whisky, I don't feel like I know Loch Lomond or Inchmurrin any better than I did before.
Having said that, it sure is a damn tasty whisky. Keeping in mind that this went for under € 50 when it came out, I don't think anyone who bought this regrets their purchase. It's highly drinkable and will certainly surprise a lot of people if tasted blind. No one ever tries Inchmurrin except out of curiosity, as far as I know.
Inchmurrin, 54.7%, batch 1, That Boutique-y Whisky Company. Sold out now.
Thanks to Ben for the sample!