With the ridiculous popularity of Japanese whisky of the last couple of years, the distillers have had to remove the age stated whiskies from the market. No more Yoichi 10, 12, 15, 20, and the same goes for Miyagikyo, and Suntory's Yamazaki and Hakushu. Instead of the age stated Yoichis, there now is a NAS version of it. I had not tried it before, so it was a nice surprise to find it behind the second door of Drinks by the Dram's Whisky Advent Calendar.
A more general comment on the NAS happenings: With those new NAS whiskies replacing the older age stated versions, I barely ever taste them since I've 'moved on' from the standard bottlings of many distilleries. That might sound a bit snooty, but it is true for most distillery's product. I do know that's not always justified, but with the semi-limited spending on whisky I can do I want to make every euro count. Retrying (often slightly overpriced) NAS whiskies doesn't fit.
Anyway, Yoichi, NAS, 43%. Let's go.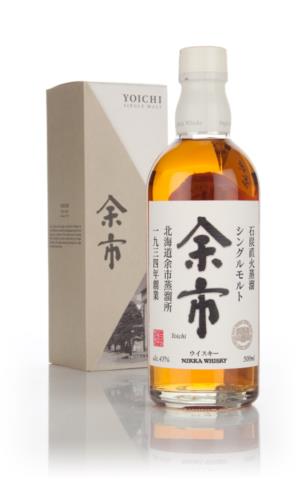 Sniff:
The slight smokiness that is typical of the Hokkaido whisky is clear from the get go. There's also sweet, alcoholic spirit and rose water. It's quite young (no surprise there) and barely any oak flavor or oak influence. The smoke is not very peaty. Rather simple.
Sip:
The texture of the whisky is slightly fatty and quite sharp. Sharp as in alcoholic, since it's not at a high ABV. Spirit, smoke and a light oak influence.
Swallow:
The smoke becomes a bit more clear in the finish than it was before. Also a bit sweeter with hints of pear. Quite vodka like.
Right. The missing age statement is clear in the whisky as well. It's a very young whisky that tastes and feels much younger than the old 10 year old. There's still lots of spirit that hasn't been influenced by oak all that much. Also, the oak hasn't added much other flavors.
It's a bit of a strange one, strange to put in perspective. Normally I'd say this isn't very representative of Yoichi's other whiskies, which an entry level whisky should be (entry means it should be a gateway drug, right?). But, with no other whiskies available from the brand without shelling out a lot of moneys, it just might be.
Anyway, I'm not a huge fan and find it too young and too spirity. I think the balance is off.
Yoichi 43%, available in the EU and the UK for about 37 of their respective currencies.
Thanks to Master of Malt and Drinks by the Dram for sending the sample in the calendar!