So, Talisker Neist Point. A lot has been written about this when it came out.
The usual suspects being quite outraged by its initial price tag of close to € 150. What also doesn't help is that it's a NAS whisky with the standard descriptions about it being flavor driven, a combination of old and young whisky and all that non-info.
What, most likely, infuriated those who actually bought a bottle back then is that it's currently available in regular markets for € 80 or so. Often, it's discounted to lower than that, since this whisky is everything but popular.
So this left me with a bit of trepidation. I generally like Talisker. Their 10, 18 and 25 year olds are all quite good and especially the ten is a good go-to whisky for just about everyone.
What I'm always a bit cautious about is their NAS range, which consists of Port Ruighe, Storm, Dark Storm and Skye, although I kind of liked the Storm. So, now there's another one that trumps all other NAS' by price.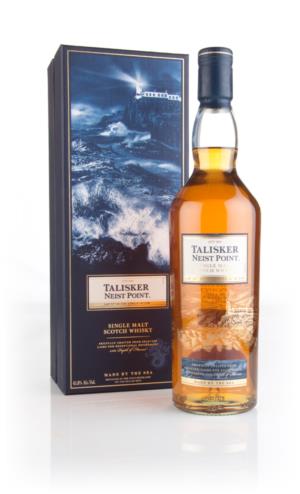 Sniff:
There's a light smoke, some straw and vanilla. A hint of pepper and a tiny bit of salt. A bit of grass, some wood. Nothing unexpected. What is unexpected is how thin it smells. Some pastry like grain flavors. It gets a bit richer with some air.
Sip:
The palate is slightly more spicy with more pepper. The combination of old and young whiskies is noticeable, but it doesn't taste like it married well. Quite dry, with a bit of oak later on.
Swallow:
The finish is a bit warmer than the palate, but otherwise quite similar. Maybe a tad sweeter too.
The problem with this whisky is that it's incredibly boring. Like, there's nothing unexpected, and what is there doesn't stand out from a quality and depth perspective either. It's 'yet another Talisker'. No unexpected flavors, nothing.
It's about the same price as the 18, which is infinitely better, and about twice as expensive as most other releases. I just can't fathom the reason for buying this, since just about every other Talisker is either better, or priced better.
Having said that. It's not very bad either. As in, there are no off-notes, the flavors and scents are all pretty okay. It's just that there are so many others out there that offer far more for the same amount of money, or are a lot cheaper.
Conclusion: just buy the 10 years old. This is a waste of money.
79/100
Talisker Neist Point, 45.8%
Edit: score lowered based on further tasting.