I managed to get a sample of this through NR, who I used to be in a whisky club with, some years ago. So thanks where thanks is due!
This thing is called Burnt Ends to tie in with the popularity of barbecue, with a lot of whisk(e)y folks. I put the 'e' between brackets since this is in part American whiskey, and scotch single malt whisky.
With an old fashioned label suggesting some devilish liquid that would go well with a pulled pork bap. Not unlike barbecue sauce. I saw this pop up a while ago and wanted to try it, however, Master of Malt makes and sells it, and they're not shipping to The Netherlands.
Therefore, I didn't get a bottle but did get a sample, and I think I'm quite glad with that.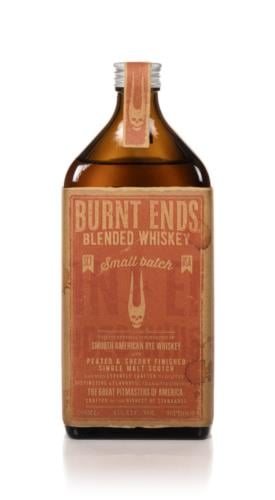 Sniff:
On the nose it has the typical nose of rye whiskey with lots of spices and grain. Mint, lots of rye grains, ginger, freshly cut oak. The single malt scotch only comes through with a lot of effort. There's something fruity in the background not unlike apple sauce and peach.
Sip:
The palate shows the combination of whiskies more clearly. Lots of rye, but also lots of other grains. Spicy and sweet, with some fresh oak, peach, sweet apple and pear. The spiciness comes through in ginger, cinnamon and menthol.
Swallow:
The finish has something Campari like, with the massively spicy notes, with quite some bitterness. The fruitiness is obscured by that, and there still is a lot of grain and oak.
This stuff is an interesting take and I can see this going down well with some grilled pork indeed. However, as a 'tasting' whisky, this is a bit clunky and too raw. If I had bought a bottle of this, I would have finished it on the camping with some mates and Pulled Pork.
75/100
Burnt Ends, blended small batch whiskey, 45%. Available from Master of Malt for £ 30 for 50cl