It's been forever since I last tried an official Port Charlotte. Somehow after the PC8 they dropped off my radar and I don't know why since I really like this Bruichladdich brand. I did try some indies here and there, and those I really liked too. It sounds like a solid plan to keep an eye on a product like this, but somehow I don't.
I know they're up to PC12 by now, and I know there have been hundreds of indie bottlings that were received very well. I tried some from the SMWS and Malts of Scotland, probably others too. I can't remember NOT liking a Port Charlotte.
Honestly I can't tell you why I don't buy much more of such a safe bet. But then again, I haven't been drinking that much peated whisky over the last couple of years.
Bruichladdich is focusing on provenance for the last couple of years. Their Scottish barley, Islay barley and some of that single farm stuff has been surprisingly good, even if it's really young. This Port Charlotte fits that bracket as well with all the barley coming from Scotland and not being imported from all over the world. Kudos to them!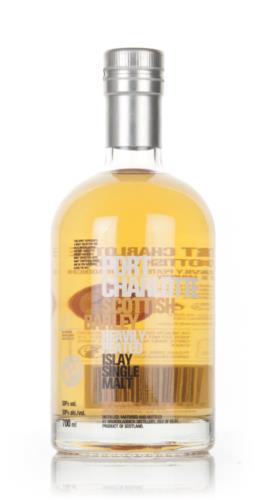 Sniff:
There's a lot of peat scent, but not much smoke on the nose. Grass and straw, quite spicy and not much oak at all. The sea side aromas of sand, salt, brine and minerals are present as well.
Sip:
The palate is smooth but does gain some strength after a few seconds. Straw and grass again. More barley now too, ears of barley. Peat and smoke. Salt, sand, beaches. Rocks and minerals too.
Swallow:
The finish continues down the road of typical flavors. It's mellowing quickly with lots of barley and straw. The saltiness is mostly gone but the sand flavors stays longer.
While this whisky will not change your opinion of Port Charlotte if you don't like it, it fits the bill if you do. Everything that's coming by is quintessential for the brand's flavors. The bourbon casks work really well and it feels naked without any intensive cask influence and no sherry whatsoever.
So in short, I really, really enjoyed this whisky. Much more than I expected too, to be honest. It's easily drinkable and interesting enough for an occasional tasting as well. Well done, Bruichladdich!
Port Charlotte Scottish Barley, 50%. Available everywhere and prices vary from € 42 to € 65.