I've often ranted about how I don't like Ledaig. Of course, there was that little 42 year old that was just out of this earth and so ridiculously good looking at that might be considered Malt Porn. It's one insane whisky, unfortunately but not entirely unexpected, the price is quite out of my league too. I'd have to save some three years to afford that.
Anyway, most other Ledaigs I've tried over the years were all in the five to twelve year range. Mostly because that's what's most readily available. Just like everybody was bottling it for festivals and clubs at one point, it wasn't hard to get a sample of one or the other bottle.
Then, a couple of months ago they released an official 18 year old. When comparing the youthful indie bottles of the last few years to the insanely good 42 year old, you might expect that Ledaig needs some age. Or at least, in my book, since I didn't much enjoy the younger ones. The 18 year old is a step up, let's see where that leads!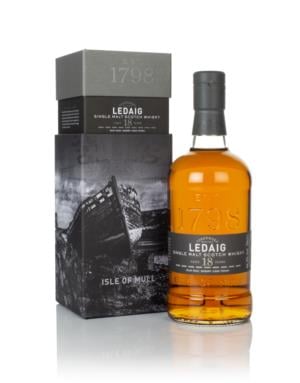 Sniff:
It's quite meaty and the slightly higher ABV really shines through. It's much richer than a regular 40-43% whisky. Beef and teriyaki marinade. Nutty, earthy and soy sauce. I think I get some pineapple like bitterness too. The smoke is a real barbecue smell, which fits the meaty scent very well.
Sip:
Strong, but not sharp on the arrival. Not too thin, not too thick, but quite rich. Fatty and meaty. Quite a lot of smoke and peat on the palate. Salt and pepper, sweet teriyaki marinade again, sesame seeds. Soy sauce, this is a weird dram.
Swallow:
The finish focuses on ashy smoke on one side, and a combination of bitter oak and sweet soy and pineapple on the other. A long and rich finish.
Well, I can now start rambling on about what I like and dislike, but there's not much I dislike. It might have been a little richer still, or not. Both could work. In short, I'm thoroughly enjoying this and am considering whether or not I'm ordering this in a while.
The meaty flavors are quite unique and there's not much that you can compare this too. Some Mortlach bottlings maybe, but the added smoke makes this an entirely different dram. It's lovely.
It's slightly more expensive than the Deanston, but I think it still sits at a justifiable € 110 bucks (if ordered from the UK). In Holland it's about 120 euros. Good stuff, and thanks again to Ronald Zwartepoorte for giving me a sample!
Ledaig 18,46.3%. Available at Master of Malt for £ 76.31