When I got that awesome sample of Ledaig 42 from Ronald Zwartepoorte, of Whisky Passion fame, I also get a sample of the then new Deanston 18. Since that was June and that wasn't that long ago, I think we still can call it a relatively new release.
Luckily, it's not a limited release it's actually still available! That's something rare nowadays, permanent additions to ranges! Anyway, I got a sample and when I was going through my stash yesterday, I decided to taste it.
Deanston, to me, is a bit of an odd one out. I think I never spent money on Deanston, while I like the distillery and its product well enough. I remember trying a single cask from Master of Malt which I should have bought.
The distillery was featured in The Angel's Share, and it's quite easy to reach from Edinburgh, which maybe I should have done when I was there a couple of years ago.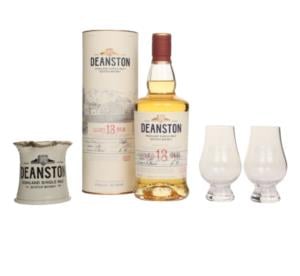 Sniff:
On the nose I found this one slightly spirity, but in a way I like it. In a way that the distillery character shows. It's surprisingly rich with lots of fresh barley and sugar. There's some vanilla and Creme Catalana. Quite 'standard' but in a very accomplished way.
Sip:
The sugar and vanilla are here again, and it's slightly hot from the alcohol. Barley and shortbread. It's quite light with oak, some chalk and a slightly creamy mouth feel.
Swallow:
The finish is beautiful. Really rich and full. A hint of coconut on top of the vanilla, oak and barley.
This is a very simple whisky, in a way. None of the flavors are surprising, not for whisky in general and not for Deanston. But what they've done with it is simply great. A thoroughly enjoyable dram that shows enough of both spirit and oak maturation. Very well balanced.
And another fun fact: It's actually affordable. It's not exactly cheap but with the way things are going right now, an 18 year old Official Bottling for some € 85 (in the UK) is nice!
Deanston 18, bourbon cask finish, 46.3%. Available for £ 61 (€ 83) at Master of Malt
Thanks to Ronald Zwartepoorte for the sample!