A few years ago Glen Scotia renewed it's package to all kinds of shiny metal tubes in the colors of your average Christmas tree decoration. That didn't really pan out, so they redid their package once again and now are slightly more distinguished with more subtle boxes and color schemes.
Apart from all that, they don't seem to be getting a foothold in most whisky lovers books. And I have to admit, I've tried a few Glen Scotias over the years, but the modern official bottlings are not among them. Not the current range, not the previous one and not the one before that. I do think I tried one of the really old 14 year olds at some point. As in, bottled in the 80s or before, but nothing more recent unless it's an indie bottling.
So, this one was an interesting find in the calendar. Not sure what to think of it, and double cask doesn't mean much unless you look it up. There most likely is a description on the official label, but since I don't have that I had to resort to the interwebz.
What I found was not very clarifying at all. It is finished in first fill bourbon barrels and PX casks. So, yes, that's two casks, but what happened before the finishing? I guess it is refill bourbon, which is the cheapest obviously.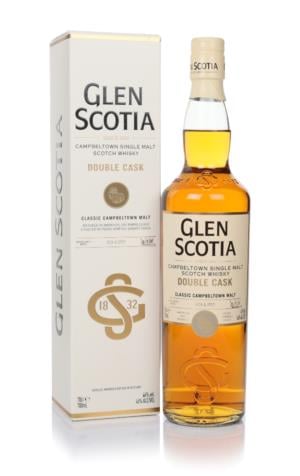 Sniff:
Wow, that's funky. Quite spicy sherry with not much fruit going on (which seems to be a bit typical of Campbeltown). Thick vanilla porridge. A weird combination of scents.
Sip:
The palate is better. A tad sharp in a good way, thick sherry, sweet and syrupy. Some vanilla. The funkiness is not completely gone but more restrained. Ever so slightly smoky?
Swallow:
The finish is sweet with vanilla and very, very sweet. Too sweet for me. Not very long though.
Well, this sure is a weird dram. The funkiness is not entirely unexpected, but it is way more in your face than I would have thought. It does put me off, but not entirely of the brand. As in, I am curious how this measures up to the others in the line-up and might just see if I can do a bottle-share with some bottles of this in 2016. In a way of 'getting to know Glen Scotia'.
Anyway, an interesting dram but not entirely to my liking. Good to have tasted something like this. It's not often you get to try this kind of interesting randomness.
Glen Scotia Double Cask, 46%, available at Master of Malt for £ 37
Thanks to Master of Malt and Drinks by the Dram for sending this as part of their Advent Calendar.