On the sixth day of Christmas Master of Malt sent to me, a nice little sample of Kilchoman from Islay.
Kilchoman is one of those distilleries that I genuinely like, but never buy anything of. Of course, there's a hundred plus distilleries in Scotland, so there's bound to be a few of those. But still, given the quality of the booze coming from the tiny Islay distillery, you'd expect there to be more of in my collection.
If you take the quality of some releases in account, like Loch Gorm, some single casks, and this Machir Bay one, I should have bought some in the past. I did, but those were the three year olds that came out a couple of years ago. Those were nice but not worth the amount of money I could get for them when I sold them.
Anyway, all rambling aside, this one popped up in the Advent Calendar and I was happy to see it. I think I've had it before but never reviewed it properly. So, thanks to the guys in Tunbridge Wells for sending it.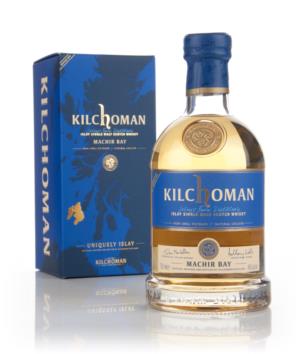 Sniff:
The peat scent coming off it when you just poured it is magnificent. Quite sharply smoky. Furthermore you get soft scents of vanilla and oak, with pastry cream in the background. Tall grass, some rosemary and garden herbs.
Sip:
The palate is rather gentle 'on arrival'. It gets a bit sharper right after that with heather, oak, peat and smoke. There's vanilla that brings all those flavors together nicely. After a few seconds I also think I get some thistle.
Swallow:
The finish really flavorsome with a somewhat lighter smoke than before. Heather and grass.
This made the wishlist straight away. I had a feeling this was going to be good, but this is a dram that is a nice drinker but also a great one for properly assessing. I love it that it's not overly punchy and brings the full smoky flavor quite gently. It's almost like a smoked pastry with a nice added garden herbs for some depth.
It's remarkably well balanced too and the vanilla isn't overpowering the whisky in any way. Kudos to Kilchoman, this just might be the whisky from them that I like most. I loved last year's release from Abbey Whisky, with all its fiery sherry flavors (quite Devil's Casks like), but I think this is a dram that can captivate me for longer.
I just might have to get my hands on both of them to see where that lands me. (In trouble with the misses, that's where it would land me)
Kilchoman Machir Bay, 46%, available everywhere for about € 50 / £ 40. Master of Malt is currently sold out. There's a gift pack available though, for £ 50
Thanks to Master of Malt and Drinks by the Dram for sending this!