It's good to try another Balvenie so shortly after my trip to the distillery. It was fun and it kindled my love for the distillery. Still, I don't care all that much about most of their regular releases. They're all good, but not awesome or so.
Of course, they have ridiculously awesome whisky available in a range that is sort-of affordable if you want to shell out, like the Tun 1509 / Tun 1401 series. Last year they releases the new 15 year old single cask and I got to try it at this year's Hielander Whisky Festival. Back then I wasn't thrilled with it, but things can change.
I do think Balvenie is not a whisky that works at a festival. Unless it's the first one of the night, but after some cask strength whisky it just doesn't have enough oomph to overpower anything. That's what happened in February. That's not what happened when I tried it now.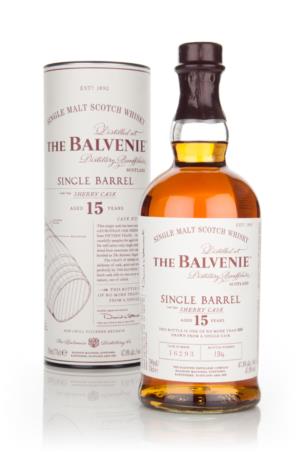 Sniff:
Sweet and fruity sherry without being too sweet. Orange, plums, peaches. Gentle whiffs of malted barley. Some oak, with a great balance to it, especially for a single cask. After a while I get light notes of chocolate.
Sip:
Quite sharp on the palate with strong oaky notes (American oak?). I get Valencia oranges, plums and candied fruit. Light hints of baking spices with cinnamon and clove. Some milk chocolate and nougat.
Swallow:
The finish is very nice, full and rich. Oak and fruit.
Like the Kilchoman Machir Bay, this one went straight to the wishlist. It's quite punchy for a whisky under 50% but the balance is outstanding and I am absolutely loving the fruity sherry that this Balvenie brings. It works well with the shite weather we're having at the moment and brings a warm wintry feeling that works well with the gentle background of Balvenie.
It's quite interesting how I don't care about a lot of Balvenies (the old 15 year old single barrel, the new 12 year old, the double wood and such) but sometimes one pops up that is outstanding. This one is that. And, in a current climate I think a 15 year old single barrel from the distillery itself is acceptably priced at £ 74.
Balvenie Single Barrel, Sherry Cask, 15 years old, 47.8%. Available in most outlets and should not exceed £ 75. Master of Malt is sadly sold out.
Thanks to Master of Malt and Drinks by the Dram for sending this in their Advent Calendar