On the ninth day of Christmas Master of Malt brought us to Ireland. Tullmore D.E.W. (D.E.W stands for Daniel E. Williams, the original creator of the brand) is currently produced by William Grant & Sons, and while they wait for the distillery to finish and produce their own they still buy stock and blend it. As with other unnamed Irish whiskeys it's most likely to come from Cooley and Bushmills.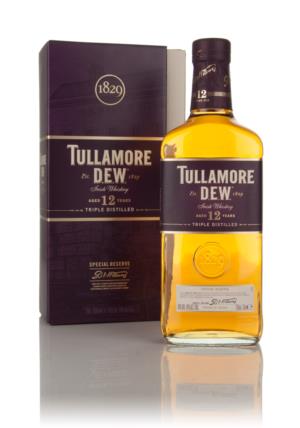 Sniff:
Light and fruity and very Irish because of it. Perfumy in a good way with soft pear, rose water, lychee and a bit of chalk.
Sip:
The palate is slightly sharper than the nose, a bit more fierce (surprising for a 40% whisky). There's white pepper, pear and lychee. Ever so slightly bitter, but also a sweetness of icing sugar.
Swallow:
The finish is nice, fruity and light. Some spices (garden herbs) and chalk again. A bit of malt suddenly. Rather short, though.
The palate is the least attractive bit of this whisky, somehow. The nose is pretty good and the finish as well, but the fierceness on the palate seems strangely misplaced. What's also interesting is that I don't get any oak on this 12 year old whisky.
Because of the fierceness that's not necessarily too much, but just out of balance, it's not entirely my cup of tea.
Tullamore D.E.W. 12 years old, 40%, available from Master of Malt for £ 50.
Thanks to Master of Malt and Drinks by the Dram for sending this as part of their Advent Calendar