Behind door number 10 was a whisky that I know I've had before some years ago, but have never reviewed yet. I think, but am not sure, that I even ordered that sample from Master of Malt as well.
Anyway, Monkey Shoulder is a blended malt whisky from William Grant & Sons, based around the old malting floors they still use at Balvenie. Monkey Shoulder was the injury people attained from turning the malt by hand for long hours, in long days, in long years.
Because of that I started this whisky a little apprehensive. I remember not liking it very much back in the day, but I was curious to find out whether that still held true.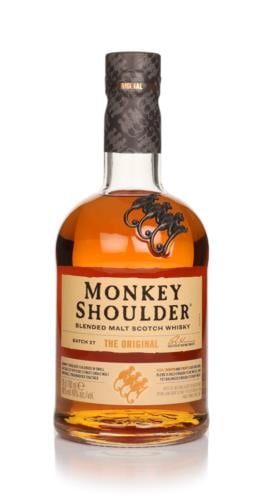 Sniff:
Slightly acidic, with old malt and slightly sweet. Some honey but rather flat.
Sip:
Smooth and not as thin as I expected after the nose. Slightly drying with oak, malt and some pine. Not resin, but the needles. Quite dull.
Swallow:
The finish is slightly more spicy, but that acidity is back too. Short.
So, as you might have guessed, my opinion hasn't changed over the years on this dram. I'm not a fan and find it lacking at all levels. The nose isn't good and neither is the palate and the finish. There's just not enough happening to keep me interested. And if it's a simple dram it needs a lot more intensity.
Even things like Balvenie Double Wood or Glenfiddich 12 have more going for it, and those are 'starter drams' in my book (nothing negative about those, mind!).
So, not recommended from my end. At 25 quid you can do better. For example, by buying Compass Box' Great King Street.
Monkey Shoulder, 40%, available from almost everywhere.
Thanks to Master of Malt and Drinks by the Dram for sending this as part of their Advent Calendar