I didn't write anything about the Advent Calendar yesterday since I didn't have time for it, so today is a double post.
Behind door 11 is Master of Malt's own Boutique-y Whisky Company, and more specifically it's the fourth batch of the Isle of Arran distillery. Door 12 held the regular Caol Ila 12.
I was quite pleased to find those two drams since I generally like both Arran and Caol Ila, and the Caol Ila 12 is one of those whiskies that got me hooked on this weird hobby in the first place.
I haven't had it in years, so it's nice to go back to basic for a change and see how things work out after a decade of drinking excessively ridiculous whiskies. But first, the Arran.
Arran, batch 4, 52% by That Boutique-y Whisky Company
On the nose it's quite intense and quite rough. Lots of barley and therefore this smells a bit younger than is usual for Arran at the moment. Quite forward with the alcohol, some shortbread and light spices. A dry kind of fruitiness, apple skins and pear skins.
The palate is sharp, but also quite warming. Barley, apple and lots of alcohol again. Slightly more focused on the fruits, and it adds white grapes to the equasion.
The finish is rather long and the fruit is more gentle. Barley, alcohol and soft oak.
This one works very well with a few drops of water. The balance is much better with less focus on the alcohol, more fruit and slightly more sweet too.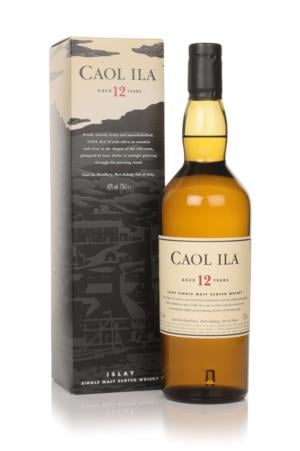 Caol Ila 12, 43%
Now, we go back to basic with a nose of smoke and peat, the typical creaminess of Caol Ila (or is it oily?). Not a lot of oak with sweet grapes, lychee and pear. A touch of dryness and heather.
The palate is gentle and slightly drying. Some spices, heather with peat. Not so much smoke as on the nose and white oak. Creamy, slightly thick and pastry cream.
The finish brings more and more heather. Lots of flavor and rather long. Light smoke and vanilla.
So, the Arran first. It's a quite lovely whisky but it only really works with a bit of water. Otherwise it's too alcohol forward, for my liking. The same effect might be achieved by letting it air for half an hour or so, but I didn't wait that long. Still quite recommended!
The Caol Ila is a dram that does have a bit of an association bonus to me. Still, I was surprised by how much I still like that whisky after a decade. It doesn't surprise you in any way, but it's really good. I liked it a lot more than I expected I would.
The Arran is already sold out at Master of Malt, but you might be able to find them somewhere else (WhiskyBase has no links…). The Caol Ila is available everywhere, but please buy this kind of stuff from specialists and keep them in business.
Thanks to Master of Malt and Drinks by the Dram for sending this as part of their Whisky Advent Calendar!