Exactly 36 days ago I wrote about left overs from bottle shares. While most of these bottles have not been emptied yet, I am already planning new ones.
I've got some things in the running at the moment that I would love to share. All this sharing is based on my love for booze and the inclination to keep trying new stuff and keep exploring the limitless world of fermented and/or distilled drinks.
Below is a list of stuff that still has room for more participants. Some of these shares are happening however things work out. Others might or might not, depending on whether or not they fill up. I'll indicate which is which.
Mezcal
I found that one of the retailers I keep track of has a lot of new mezcals available. These fall under two different brands (from one company) and have two different approaches. Both sets are on my wish list, so I'd love to fill these up.
El Jolgorio
This is a brand that apparently does a lot of interesting stuff with single agave mezcal. The shop has four different kinds available, and an extra special thing called Pechuga. Pechuga is a kind of mezcal distilled with chicken or turkey breast in the still, as well as some other aromatics.
The single agave types are Madecuixe, Cuixe, Barril and Mexicano. The first two are harvested at 13 years old, and the rest is 10 years old. The production methods are all very traditional involving stone pits, wheels and donkeys.
Obviously they aren't cheap since most of these agaves are old and wild. The Pechuga even crosses the 100 euro mark (and then some).
5 cl of each of these is € 42.50
10 cl of each of these € 80
This one is not full and will only happen when it is. Currently there's 45 cl available.
Nuestre Soledad
The second set from the same company is called Nuestre Soledad. As you might guess from the name (if you have some feeling for language) is that these focus more on provenance than ingredients.
All agaves are Espadin, which is to be expected. The towns represented in Santiago Matatlan, San Luis Del Rio, La Compania and Santa Maria Zoquitlan.
Espadin grows a tad faster and is generally harvested after seven years. This is represented in the price.
5 cl of each of these is € 22.50
10 cl of each of these € 44
This one is not full and will only happen when it is. Currently there's 55 cl available.
Whisky
Talisker Neist Point, 45.8%
The newest NAS release from the Skye based distillery. The official marketing blurb contains info about wide ranges of ages and casks. But let's be honest. It's a Talisker, which means there is a chance this is fairly awesome. The reviews have so far been mixed but with a tendency to be positive.
This one is happening regardless of more participants. There's 15 cl available.
5 cl of this costs € 7
10 cl of this costs € 13
Black Bull 40, batch 4, 41.9%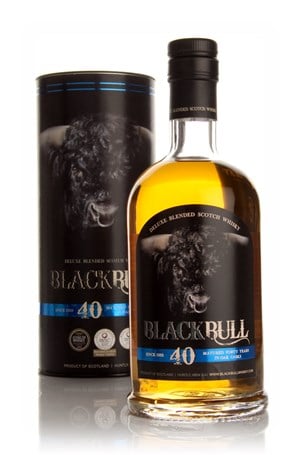 A blend of whiskies varying from 40 to 44 years old. It consists of:
89% Single Malt Whisky
11% Single Grain Whisky
80% ex-Bourbon Casks
20% ex-Sherry Casks
The distilleries represented in the blend are Bunnahabhain, Glenlivet, Tamdhu, Glen Grant, Invergordon and Port Dundas.
This one is happening regardless of more participants. There is 10 cl available.
10 cl of this costs € 35
Inchmurrin 23, 1993-2015, 59.2%, Signatory Vintage
An indie Inchmurrin with a bit of age to it. Not much to say about it except that it's from a Hogshead.
This one is already happening too, since the bottle is already on my shelf. There's 10 cl available
10 cl costs € 18
5 cl costs € 9
If you're interested in any of the above, please let me know. Also, there's lots of other samples available from my personal collection. This might be interesting to make the most of your shipping costs 😉