I think Wemyss has taken lessons from the Scotch Malt Whisky Society based on how they name their whiskies. This 'Merchant's Mahogany Chest' has a name based on the flavor of the whisky. So, I expect deep and woody flavors and aromas when I read it.
I didn't know it when I tried it though, since it was a blind sample of which I only recently found out what it was.
A small side note to Wemyss' bottlings. Most of them are done at 46% and I think in quite a few cases a bit of a bump to a higher ABV or even cask strength would serve them well. They seem to start to realize that though, since there've been a few Bowmores (at least) that have been released at a higher alcohol percentage.
Glen Scotia is 'the other Campbeltown distillery'. Or at least it used to be before Glengyle was reopened. I think it still is since Glengyle is part of Springbank's company and that means this one is still the more quiet one in town. They're not well known for awesome whiskies but they are changing their reputation cask by cask. The standard bottlings aren't all that, but a lot of the single casks out there are pretty good if not great.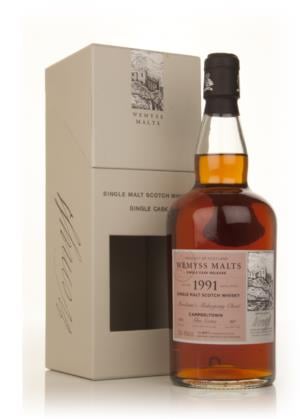 Sniff:
Lots and lots of sherry, but still slightly timid. A lot of oak too, and chocolate and the fruitiness of the sherry is represented by fresh peaches.
Sip:
The palate is a bit thin, but there's some spiciness to it. Oak and dried fruits. Plums, dates and some peach. Also a bit of a bread like flavor.
Swallow:
The finish is a bit weird. It has fruit, malt and oak but somehow these flavors don't seem to be integrated. Like it's falling apart.
This started as a rather decent sherried whisky. I've looked at other blogs out there and there this whisky is getting upwards to 90 points. I don't think it's exceptional enough for that, but it sure is a tasty and drinkable dram.
However, after the not so extraordinary nose and palate, the finish kind of ruins it for me. The lack of integration between the flavors is something I find worrisome. If I had a whole bottle I would have a tough time going through it, now that I've found this flaw. Strange, though.
85/100
Glen Scotia 1991-2013 (so, 21 years old at least), Sherry butt, 46%, 'Merchant's Mahogany Chest' by Wemyss. It used to cost some € 125