Starting a blog post by telling a certain brand is not on my radar is nothing new. Actually, it's starting to become a bit tedious. As it turns out, a lot of brands and/or distilleries are not on my radar. It seems I'm not really keeping track of many developments in the world of whisky.
I think that's because whisky news, most times, is also becoming a bit tedious. A new distillery around every corner. A new release from every distillery with some weird name that suggestively tells you what to taste. You know the drill.
I feel that, for my personal view on whisky, I'm veering back to the more established flavor profiles and styles. Not necessarily older brands, but older styles. Maybe that's a bit because there are so many 'off the beaten path' and 'original' whiskies out there that a good bit of old fashioned single malt is becoming a curiosity.
Back to Paul John. For information about the distillery, I suggest you try Googling it. I don't know anything about them, except that their oldest releases are about 6 years old and Master of Malt and its subsidiaries are the only bottlers (MoM and TBWC) that have ever released a Paul John whisky with an age statement. All of those are six years old.
I know they're from India. I know the company hasn't been producing single malt for long. By their labels I figure out they're doing things a bit like Amrut, and are going for a Scottish style whisky.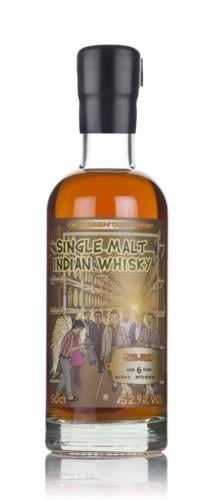 Sniff:
Based on the previous statement, this might be a bit surprising. If you would have told me I was drinking a rye whisky, I'd have believed you. This is so sharp and spicy it's really weird, for a single malt. Lots of freshly sawed oak. Rye, hay, pink peppercorns and some mint. Only after half an hour of airing it tones down a bit and becomes a bit more single malt like.
Sip:
The palate is incredibly dry with a mountain of fresh, and raw, oak. Again, sharp and spicy. It is quite consistent, with rye and pink and red peppercorns. Some old leather. Superbly dry.
Swallow:
The finish is mostly sharp, without a lot of flavor. Or maybe, the flavor is overpowered by the fierceness. Some bitter caramel towards the end.
Well. I'm not sure what to say about this. I added a drop of water but that didn't do much. So, it might need more or it just doesn't react all that well. It's insanely sharp and I'm not overly enjoying this.
I generally like dry and spicy whiskies. But this is just over the top. Also, it's so much like a rye whisky, I think if I want something like this I'd buy a rye whisky. So, again, this isn't really for me I think. Especially at the price (€ 125-ish), I'd buy a nice single malt, and a nice rye instead.
Oh, and somehow, I missed the peat. Not sure what's going on here.
81/100
Paul John 6yo, Batch 2, 54.7%, That Boutique-y Whisky Company. It's available from Master of Malt for € 126
Thanks for That Boutique-y Whisky Company for sending the sample!