Just to keep things fresh, The Whisky Exchange keeps bottling casks of whisky from all over the place. Their newest releases are a vintage 1999 Highland Park from a bourbon cask, and this 16 year old Aberlour from a first fill sherry cask.
Generally, Aberlour releases their regular releases and the always impressive A'bunadh. That's a NAS full frontal sherry release at a very high strength. This is something similar to that, but with more age under its belt.
While I'm generally quite impressed with Aberlour, I don't think I've ever bought a bottle of it, unless it was in a bottle share which I don't remember. Since my memory is pretty okay, normally, I think I never bought a bottle.
This happens, there are quite some distilleries for which that is true. But somehow, with Aberlour this strikes me as quite strange. Especially since they're normally quite nicely priced.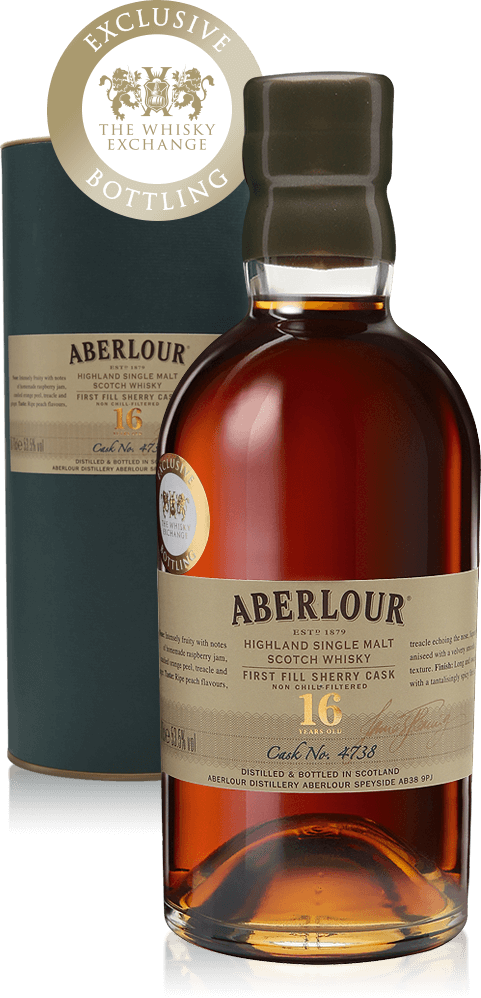 Sniff:
The sherry notes on the nose are fairly huge. Slightly dry, and a lighter sherry style. I would say Oloroso over PX, in this case. The nose is smoother than I expected, and there's a minty note in the background that keeps things fresh. Dried plums, clove and nutmeg, wood pulp and sour cherries.
Sip:
The palate too, is rather smooth. Still quite spicy but slightly more focus on pepper (chili and black) and it tastes a bit like a dry barbecue rub (mind, not the greasy, smoky barbecue itself). Oak and fruit as well. Plums, cherries, some cherry stones too. Slightly bitter because of that. But also syrupy, almost fatty.
Swallow:
The finish goes back to the sherry notes themselves. Oak and fruit, but also the spices. It's long and rich.
Dare I say it? I think this almost tastes like a Yamazaki 18, minus the Mizunara notes, but more intensity. That can also be read as: I friggin' love this stuff. Somehow I hoped the bourbon Highland Park would be better than this, for some reason. But this one does sherry so very well there's just nothing to complain about.
The fruit is not all encompassing, but neither are the spices and the wood. The balance is quite extraordinary. Absolutely gorgeous stuff, and really highly recommended.
91/100
Aberlour 16yo, First Fill Sherry Butt 4738, 53.5%, OB for The Whisky Exchange. Available there for £ 100
Thanks to The Whisky Exchange for sending me a sample. I'm thinking whether or not I can afford this at this point 😉