The second sample I got from The Whisky Exchange is a cask strength Highland Park from 1999. About the same age (or exactly the same age) as the Aberlour. This one's from a bourbon cask, which deviates a little bit from Highland Park's own more sherry focused bottlings.
Over the years I've been able to try some sherry casks, bourbon casks, and batches made up of both. I have to say that, generally, Highland Park puts out some amazing whisky that works in both types of wood. There might have been some finishes too, but I've chosen to forget them if I ever tried them. I generally am not a huge fan of finishes when they're not done in sherry or bourbon casks.
Anyway, a bourbon cask matured Highland Park. Bottled for picky choosers at The Whisky Exchange, by picky cask selectors at Gordon & MacPhail. Should be good, right?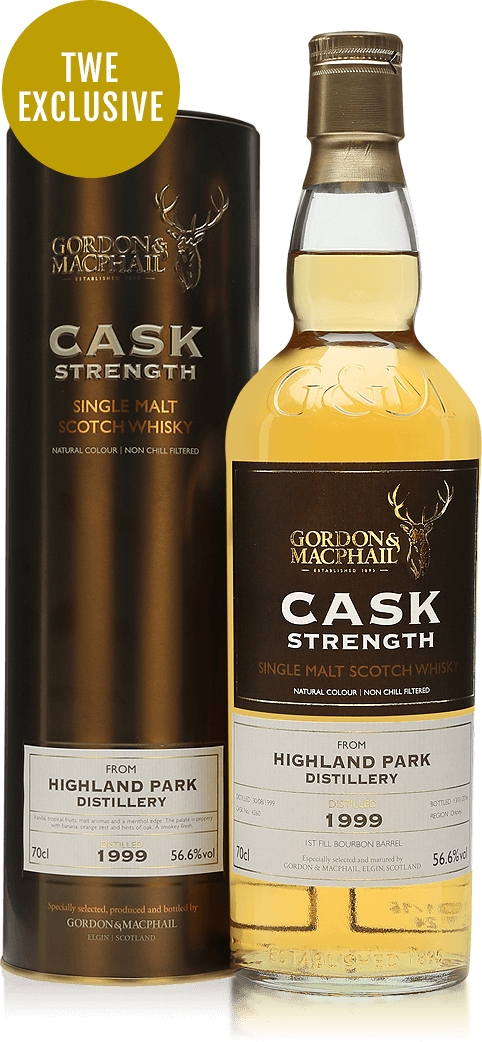 Sniff:
Quite rough and coastal. Slightly salt and less vanilla than I expected from a first fill bourbon cask. Straw and marram grass. Hard fruit candies. A slight trace of smoke and quite briny. Some sand and sea shells.
Sip:
The palate is less sharp than the nose, but there is some peppery heat from the alcohol. Some oak, but not a lot, and some vanilla. Light smoke and fruit. Pear, apple, melon and pineapple. Yellow fruits, so to say. Twigs and green leaves.
Swallow:
The finish is long with beach flavors. Sand, salt, brine and some wood. The kind you also find on the beach. Somewhat less fruity.
Well, it might not be as awesome as the Aberlour (but it's hard to compare directly, since they're so different) but it sure is a tasty whisky. It has more or less everything you hope from a bourbon matured Highland Park with it being a fruity and coastal dram. To me, that works.
The 'coastality' of this whisky is what I find most appealing. It reminds me of the Dutch beach in autumn. Lots of stuff left by the tide with ropes, and bits of wood lying around. The smell of the beach and the sea. Gorgeous stuff.
89/100
Highland Park 16yo, 30/08/1999 – 13/01/2016, first fill bourbon barrel 4260, 56.6%, Gordon & MacPhail for The Whisky Exchange. Available at TWE for £ 80
Thanks to TWE for sending a sample!