So, I suddenly stopped blogging about the Whisky Advent Calendar from Drinks by the Dram / Master of Malt. This didn't happen for nothing.
I am also the editor-in-chief of our whisky club's magazine, De Kiln. It's a quarterly publication, completely independent and is released to some 450 people throughout the Netherlands and Belgium.
The December issue was about to be released and I had been slacking in my editorial work since I have barely been home throughout November, and there were all kinds of reasons to not do stuff earlier. Reasons can also be read as excuses. So, this all culminated in a huge amount of work to be done on the brink of the magazine's release, especially since some promised copy was cancelled after being a week late.
Result of all this: A couple of all-nighters after work to get things done. Reading articles, rereading them, rewriting bits of it, page make-up, writing bits to fill gaps, sorting through hundreds of photos from our Scotland trip to find stuff to put in. Stuff like that.
With the Blind Tasting Competition going on too, which costed time anyway, I decided to blog about that and catch up on the Calendar later. Later is now. One week to go before Christmas and a few drams to go as well.
Let's get cracking, shall we?
Day 13: GlenDronach 12, 43%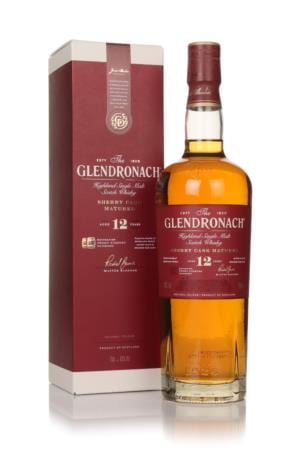 One of those drams you've had before, but never reviewed. Mostly because I didn't have a blog back then. I knew it was nice, but in a completely different league than the revered 15 year old and the (in my opinion) even better 18 and 21 year olds.
On the nose it's a bit thin but there's a scent of chocolate truffles. Quite malty, almost to a beery level. Baking spices too. The palate is super gentle with some honey and malt. Some muesli too, barley and dried peach. A hint of black pepper in the back. The finish is slightly flat with dried fruits, wine gums and old wood.
A nice entry level dram for those who don't know GlenDronach yet. Although, I'd recommend going for the 15 year old. There's a lot more happening in that one. This one's nice, but quite generic, especially for a remarkable distillery like GlenDronach.
Day 14: Jura Superstition, 43% Funky Jura. I reviewed this back in 2010 and gave it five stars. That is wrong. It was part of a Twitter Tasting, and I think the label on the whisky should have read 'Prophecy', instead of Superstition. My bottle of Superstition, which I bought after this tasting, is nothing like the tasting notes back there. Quite a bummer, since this is a rather funky and flat whisky that focuses on the wrong elements of Jura whisky.
In short, I don't really like this one.
Day 15: Fettercairn Fior, 42%
The entry level Fettercairn that was released in 2011 after revamping the distillery's line up. One that I also have reviewed earlier and wasn't a fan of back then.
It's one of those whiskies that are pretty okay, and in this case a huge step up from what they released prior to 2011, but it's still not very good.
Day 16: Balvenie 12 Double Wood, 12yo, 40% Another entry level whisky from a well known distillery. This one I have never reviewed, but coincidentally I wrote tasting notes for it at the distillery.
On the nose there's the trademark honey with some oak and butterscotch. The palate is smooth with honey and barley. Oak and butterscotch too. The finish is gentle and rich.
This is one of those whiskies which you forget about after a couple of years of dramming. However, it also is one of those whiskies that you can blindly recommend any beginner that wants a true classic from Speyside. I think, apart from Glenfiddich 12, this is one of the most classic whiskies out there, and it's not for nothing.
It's not the most complex whisky ever, but it is good. And tasty. And rich. Recommended.
Day 17: Mackmyra Brukswhisky, 41.4%
The fourth entry level dram in a row, fifth if you count the Caol Ila from the previous Advent Calendar post. It's the basic whisky from the oldest whisky distillery in Sweden. It's made as the middle ground for what the distillery does. Some sherry casks, some bourbon casks, some Swedish oak. The recipe is a blend of the smoky one and the mellow one.
It's an okay whisky, but, as to be expected from something marketed as the entry to Mackmyra, a bit middle of the road. Not bad, not exceptionally good either. Quite affordable though, since Mackmyra normally is ridiculously expensive (as are most Swedish whiskies).
Day 18: Girvan Patent Still, 100 Proof (57.1%)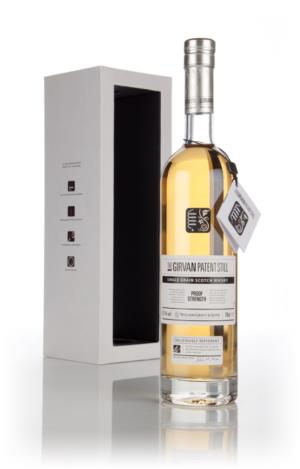 Now this is getting interesting. Girvan is not exceptionally rare as a grain whisky. It is, however, quite new in the range of official bottlings by William Grant and Sons. They've released a couple versions of which a 30 year old is currently the oldest.
This is a NAS expression showcasing what the whisky does at a higher proof. Comparable to the No. 4 Apps which was released recently (it was recent, right?).
On the nose it's rather crisp with apple, but also uncooked vegetables. Cauliflower leaf mostly. Slightly spirity and grainy. A whiff of matches too. The palate is sharp and fiery, quite raw. Lots of white pepper and vanilla, some oak and not a trace of fruitiness. The finish is hot, dry with loads of alcohol. Not very long.
A very interesting whisky, but one I would recommend for a whisky tasting. I think this is one of those whiskies that's very interesting to try in a whisky tasting, but not one that you'd go back to over and over again if you buy a whole bottle for yourself.
Also, it's a nice view into the philosophy behind the distillery from the company itself. How they see their whisky.
Day 19: Lost Distilleries Blend, Batch 6, 49.3%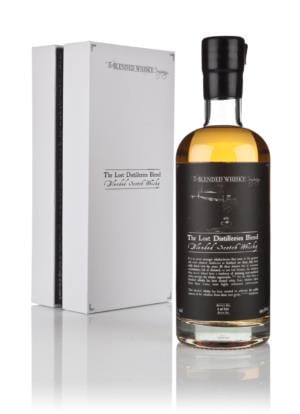 The last one for this post. The Lost Distilleries Blend is a whisky from Master of Malt itself, officially from The Blended Whisky Company, for sales purposes detached from Master of Malt.
The blend consists of only closed distilleries, in this case those are Mosstowie, Port Ellen, Glenisla, Imperial, Caperdonich, Glen Mhor and Brora, and the grain comes from Port Dundas.
Thanks the high heavens they sorted out their fennel issue. About two or three years ago a lot of the blends coming from Master of Malt were very fennel like, and I suspected there to be some kind of pollution in their system. It seems they have fixed that and (for me) the quality of the booze leaped up after that.
On the nose it has an old fashioned graininess. The crisp flavors of grain whisky are there too. Slightly mineral like with hints of apple. Slighly cognac-like too. Granny Smith apples, mustard seed and coriander seed for spices. The palate is slightly sweet and quite sharp. Old grain and old grain whisky. Wheat, lemon and a slight leathery flavor. Sugar, syrup and a light smoke. The finish is slightly more smoky, with old lemon and dusty barley. The oak is quite timid, and there's some sweetness. Warm and long.
With all the distilleries being closed for quite a while, it's quite an expensive whisky. However, it's also pretty great. The concept is very interesting and it would be nice to see how this would compare to a similar dram from open distilleries.
Most of these closed ones were closed in favor of another distillery (Brora -> Clynelish, Port Ellen -> Caol Ila, and there are more). Cracking stuff, this.
Well, that's done!