So, I stared well with that Advent Calendar blogging. Then the Blind Tasting Competition started and that took over. I tried blogging twice per day but that was just too time consuming. Catching up with a massive blog post and reviewing six at the time or so seemed smart, but I should have done that with this batch too.
But, January's first week has come and gone. And I still haven't caught up with the last five drams. I think I should spend some time doing that, right?
Below you'll find reviews of, or links to reviews of Jura Elixir, Dalwhinnie Winter's Gold, Teeling Small Batch, Glenfiddich 18 and a rather spectacular 50 year old Invergordon.
Yes. Fifty. You read that right. Because, apparently, that how the guys in Tunbridge Wells roll.
Jura Elixir I've had this in 2013, quite a while after it came out for some charity event, if I recall correctly. Anyway, it's one of the nicer, affordable official Juras. That's mostly because somehow, that distillery releases a lot of crap whisky. The good ones are stuff you have to look for, and that's why they're not on my radar a lot. Mostly because I don't mind a gamble by purchasing a bottle every now and then, but with Jura the chances are slim…
Dalwhinnie Winter's Gold, 43%
One of those releases that I'm not really sure how to react to. I really like Dalwhinnie, but there are so few releases that I don't pay much attention to them. As in, they have the 15 and the Distiller's Edition. Every couple of years Diageo releases a limited edition in their autumn releases, but those are out of my league, especially without tasting them first.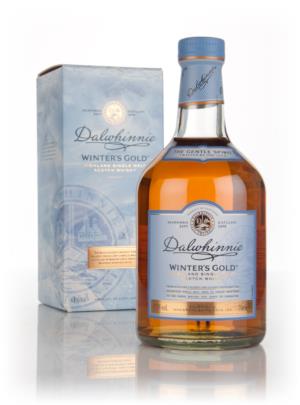 Then this one came along. Only made with spirit distilled in winter. Interesting, but wouldn't that mean the barley was harvested in summer? As in, I'd guess the time of harvesting the barley would make some difference, but the stills run on the same procedure all year round, right? Anyway, a nice concept whisky, quite in line with current 'releasing guidelines' for Scotch. Make up some story of arbitrary importance to the whisky, and sell it at an inflated price point. I guess we're lucky this in 'only' 55 euros or so.
On the nose it's young and grainy. But, there's more wood influence than I expected. Crisp, but also slightly warming. I get the winter reference. Some charcoal too, but not much happening else. The palate is smooth with warm spices like bay leaf and salmiak. Wintery, indeed. Oak, almost like virgin oak, and barley. The finish is somewhat sharper than expected. Short with oak, some pepper and warm spices.
This whisky seems very 'engineered'. As in, it was made entirely with a specific flavor profile, a concept if you will, in mind and the whiskies have been found to match that. Nothing wrong, but quite a different approach than that of a decade or two ago.
It sort of works out. As in, it matches the story and marketing concept, but apart from that it lacks some depth and 'interestingness'.
Teeling Small Batch Whiskey, 46% I've tried some Teeling whiskeys in the past. The 21 year old and their Single Malt whiskey. I loved the 21 year old, but found the Single Malt to be a bit too sweet and showing too much weird cask usage and blending.
This blended whiskey is without an age statement, but apparently with a high malt content. Since it's Irish, that malt content can come from Bushmills or Cooley, and they don't indicate that. Although, the links to Cooley are quite firm in the Teeling Whiskey Company.
On the nose it's light and fruity with fennel and aniseed. Crisp and spirity, slightly sweet with brioche, pear and other sweet fruits. The palate is quite sharp (for 46%) and young. There's grain and a light wood influence. Crisp pear again, and less sweet than expected. The finish brings back the sweetness from the nose. Lots of pear, barley, pear peels. Quite long.
The sweetness coming and going makes it slightly inconsistent, but apart from that it's a surprisingly nice whiskey. I enjoy the youthfulness if done in this way and there are some really nice flavors.
Glenfiddich 18, 43%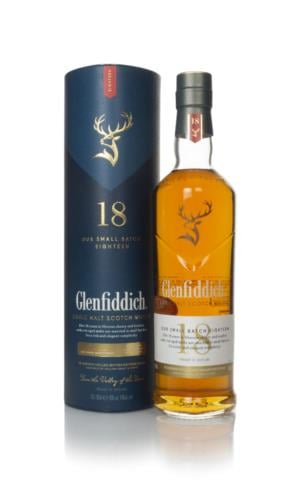 Glenfiddich is a bit of a weird one in my book. Well, not in my book, but like this. When I started drinking whisky I thought quite a bit of myself because I bought a real single malt and spent 25 euros on a single bottle of booze. I went through quite a few bottles of Glenfiddich 12.
I ramped up quickly from there and went for Talisker and Caol Ila shortly after. That's where things went wrong, and I kind swore off Glenfiddich for being not outspoken enough, too round, too middle of the road.
Recently, however (as in, the last five years), I've found that there's quite a lot of beauty in their whiskies. I still don't care much for the 12 year old, but the 15 (Solera and that 51% thingy) are really nice. So is the 18.
So, getting a sample of it was a nice trip down memory lane, of some sorts. I thought I had already reviewed it, but that seems to be a different version (the ancient reserve or something), but I didn't write tasting notes.
I did really enjoy it, and while it's not the most complex of whiskies, there is a certain level of decadence to Glenfiddich 18. A recommended dram, even though prices have increased quite a bit over the last couple of years.
Invergordon 50 years old, cask 2, Xtra Old Particular (Douglas Laing), 43%
I expected dram 24, the Christmas Eve dram, to be something extra special. I did not expect it to be extra Old Particular, though. A fifty year old grain whisky is a thing of luxury and opulence.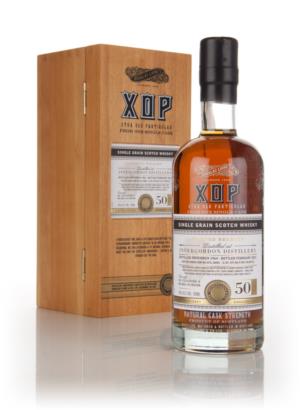 I know there are some great old grain whiskies out there, and for me personally, grain whisky needs a good bit of age to it before I start liking it. Although there are younger exceptions, generally, magic starts happening around the mid-thirties for this kind of spirit.
The Xtra Old Particular range is a Douglas Laing brand for their really luxurious whiskies. Generally, they come at a rather inflated price point so I've not spend much time with them, but I won't shy away from trying it if it 'falls in my lap' like this.
On the nose there is a lot of things happening. Lots of oak and some grain and a scent reminiscent of Armagnac. Very rich and very complex, with white oak, a hint of iron (and therefore, apple), apple treacle, cinnamon and even a hint of salt. The palate is smoother and softer than expected. Lots of oak and that hint of Armagnac again. Sweet fruit and brittle caramel. Some leather and white chocolate mousse. The finish, once again, has that Armagnac note. Fruity, rich and long. White chocolate, brittle caramel, oak. Interestingly enough there still is that crisp grainy note.
(strong alcohol + a long time in active oak = Armagnac, in my book…)
This, dear buddies, is a thing of beauty. A well aged whisky at half a century old. If you think about that it's quite ridiculous, but with whisky like that I'll take the ridiculousness with it. It's really, incredibly good. Highly recommended, even if you can just get a sample now.
That concludes the advent calendar reviews, finally. Thanks once again to Master of Malt and Drinks by the Dram. I owe you one! This was quite the Christmas gift…