So this happened. DSA, whisky buddy of mine from the USA/Israel/Austria sent me a bunch of samples with just a number on the cap. No further info was given, and knowing him it might or might not be whisk(e)y. It took me a while to get to them, but I started going through them on our weekend away a little while ago.
Only after I tried all seven of them, I looked up what each number corresponded to. It turned out to be a combination of Scotch, American whiskey, Armagnac and Mezcal. Shamefully I have to admit that I didn't pick up on each type of booze completely. But more on that in a later post.
Roughstock is located in Bozeman, Montana. Although I've never been to Bozeman due to travel and time constraints when driving through Montana, I do love Montana. It has a bit of a rough edge but the scenery is gorgeous and it's mostly smallish towns. I like small towns. I wish it made sense to go back there, but with a 1 and a 3 year old it's very expensive and they're not going to remember it anyway.
Roughstock makes just about every kind of American whiskey that's out there, and also a pure/single malt. Contrary to many upstart American distilleries they make everything themselves without buying a base product elsewhere. Montana has lots of grain so it makes sense to not buy from somewhere else.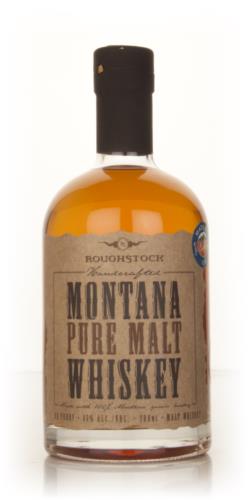 Sniff:
The nose is smooth with lots of oak influence. Pretty sweet as well with something that reminds me of a wine cask. Stewed strawberry and other red fruits. Some heavier scents in the background, which is a pretty strange combination of aromas.
Sip:
The palate isn't stronger than the nose made me expect. Oak and sweetness with lots of fruit. Somehow it's not well integrated and it feels like there's more than one track being followed at the same time. Peach, strawberry, sweetness and a light hint of pepper.
Swallow:
The finish is dry with mostly oak, some sweetness and some spices. Quite long.
The age, after looking it up, turns out to be between two and five years old. This is quite young although not necessarily for American whiskeys. However, Montana is pretty far north and quite a bit colder than Kentucky, which means maturation is different. In this case you can taste that it's quite a young whiskey.
Having said that, for a young whiskey of only two to five years old this is quite good. I think it can do with a bit more age to it for proper integration of the spirit and the oak, but they're on to something here. Add to that that this is a 'real' whiskey that's made from grain to glass. That earns some kudos in my book.
Also, it's available in The Netherlands for € 50, which is a very fair price for a product like this.
83/100
Roughstock Montana Pure Malt Whiskey, 45%, available through Drank Dozijn and other retailers, starting at € 50