This second Roughstock whiskey is a 100% rye whiskey from Montana. It came third in Shai's samples and, as the rest, it wasn't labeled. It's labeled as a straight rye whiskey, and there's no age statement I can discern, so that would mean it's at least four years old.
It took me a while to figure out what kind of booze I had in my glass, partially because it could literally be anything, and partially since I just had yesterday's Mezcal before this one (in a separate glass, though).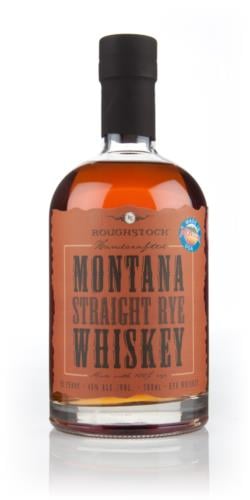 Sniff:
There's a lot of focus on the oak, and after I figured out it was a rye whiskey, the spicy rye notes became more clear. Spicy with pepper and sawdust. Some nutmeg and ginger. Quite young tasting.
Sip:
The palate is peppery again, but the pepper comes in after an initial wave of chocolate and oak. Quite dry and it increases in sharpness as you let it swim. Almost no sweetness.
Swallow:
The finish is, not surprisingly, peppery again. Quite dry and sharp with rye and crusty bread.
Much like the Roughstock Pure Malt whiskey I reviewed last week, this is quite a nice dram. It seems a whole generation of 'we do everything ourselves' distillers is standing up and claiming some time in the spotlight nowadays. Thank God, since I wouldn't be thrilled with an industry that's based on bought whiskey with flavorings in it, like Templeton.
This one shows lots of rye flavors and that's not surprising since it's a 100% rye whiskey. It's also quite good and, for American 'craft' whiskey, quite affordable in Europe. Or maybe I've just gotten used to spending € 60 on a bottle of young hooch from a fly over state.
84/100
Roughstock Montana Straight Rye Whiskey, 100% rye, 45%. Available for € 62 at Master of Malt.