My father in law has a developed a taste for Virgin Oak matured (or finished) whiskies. Over the years he's gathered a few here and there with the idea of hosting a tasting for us at some point. That hasn't happened yet, but I wanted to have a contribution to that event available too.
When BenRiach released this one last year I was interested right away, since I also tried one that was a couple of years older at the distillery. That one has been bottled for Denmark in 2013 and I don't think there's a web shop that has it available. It isn't even in Whiskybase.
Anyway, this youngster had been waiting to be opened for a while and I decided to do just that this week. I don't really know why I thought it a good time to open a bottle again, but it turned out to be a fine experience. One done with a bit of TLC.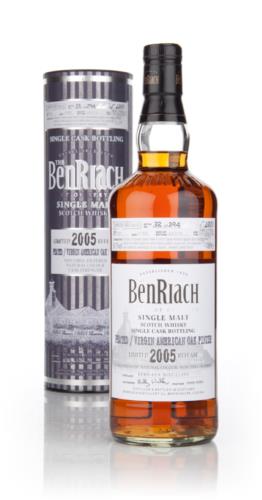 Sniff:
There's a lot of peat. It hasn't had time to be tamed in oak yet since it's not even ten years old. The virgin oak shines through with big hints of vanilla, but also has some floral scents. Plants, freshly sawed oak, and a hint of milk. Some heather too. The smoke has a much more mainland character than Islay whiskies.
Sip:
The palate is very dry but not too sharp, even without water. Smoke and warm oak. Vanilla, cookie dough, heather and plants. Peat, earthiness. The oak is quite different than I'm used to.
It reminds me of the tree trunks around our school yard. The brushes were thick and wet, which caused a layer of green, thin moss to grow on the north side of the trees which smelled a bit like this whisky. I don't generally get those flashbacks based on scent, but this is one of them. I had to look it up on Google image search, but the trees were poplars.
Swallow:
The finish is somewhat greener and long. Plants and wet moss and tree trunks again. Wet oak, a lighter smoke, freshly chopped down trees.
With all the moss and swamp-like flavors and earth going on it is a bit of a dirty whisky. Maybe it's because of the moss-on-poplar scent, but I really like this one. I know it's not a ridiculously great whisky, but it sure is tasty and displays some interesting flavors that I've not come across all that often before. In that way it's a very interesting addition to my collection and at the price it cost me (some € 65 I think) I'm happy I made the purchase.
It obviously also helps that I rather like BenRiach. I'm not much for wood finishing in all kinds of wine casks, but the virgin oak direction I find highly interesting. The fact that this one is peated too also helps. Not that I'm still very much in love with peated whiskies, but in this case it gives me a new experience.
BenRiach 2005-2014, 9yo, cask 3781, Virgin American Oak finish, 58.7%. Available at Master of Malt for € 70.80