A sample of this has been sitting in my cupboard for, I think, a few years now. I got it from BG, a whisky buddy who's a huge Jim Beam fan and obviously had this on his shelf.
Technically, I don't mind whiskey liqueurs all that much. It's okay for them to be there, but it's just not my cup of tea. I tried the Jack Daniel's one a couple of years ago. Twice. Once from a Styrofoam or paper cup in a motel, and once properly after Hans Offringa had a problem with the setting of the first review (he was right). That one's nice but won't make me buy a lot of whiskey liqueurs.
This one then. Honeyed whiskey liqueurs have been up and coming in the US for a while now. Almost every major brand has one with Jim Beam also having all kinds of different liqueurs out there (Red Stag, Maple) and I wouldn't be surprised if more is on the horizon. It's a growing market for some reason.
In short, I don't really understand the appeal of these liqueurs. Mostly because there are vast amounts of liqueurs available which makes me not really see the added value of each brand producing a honey one as well. As far as I know they aim these drinks at the cocktail market, but from a cocktail perspective I'd rather mix bourbon and honey myself.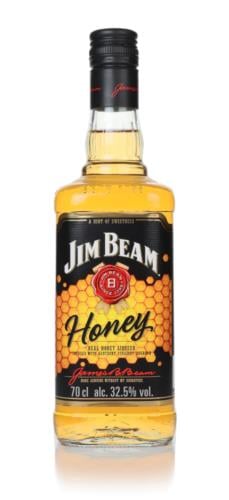 Sniff:
The bourbon is present but very, very light with the honey being hugely powerful on the nose. Not overpowering, but powerful. Some corn sweetness, cinnamon and the scent of warm sponge cake.
Sip:
The palate is a lot sweeter and more sugary than the nose made me expect. Sugar coated peanuts, lots and lots of honey and almost no wood or spirit flavors.
Swallow:
The finish has a bit of a drying thing going on which gives it a bit more character than the palate.
I'm not the biggest fan of whiskey liqueurs or liqueurs in general, so this might be a bit of a noob review (I do love Zuidam's Orange liqueur though). I think I preferred Jack Daniel's version of the honey liqueur since that had a bit more whiskey character. I actually rated that quite highly even though I was very negative at first (from the Styrofoam cup).
This one is just a bit too heavy on the honey side which overpowers the palate to a large extent. The nose and finish aren't bad, but maybe a tad simple. It's the palate that ruins it for me.
Luckily, you can easily try for yourself since this stuff isn't expensive at all. At De Whiskykoning you can get a bottle for € 21, in the UK it'll set you back some £ 20.
Jim Beam Honey, 35%
Thanks to BG for the sample.