Benromach releases a Sassicaia finished whisky from their warehouses every year or so. They don't come with an age, but they use a vintage instead. They go with vintages for a lot of the wood finished whiskies, while the older 'regularly' matured whiskies come with an age statement.
In this case, the vintage 2007 means that it's at least an eight year old whisky. The whisky matured in bourbon casks for the better part of its life, before being finished in Sassicaia casks from Tuscany for 2 years. More info can be found here.
There aren't many Sassicaia casks out there, and while Benromach has the more famous one, I know the casks were also used in Glenmorangie's Artein Private Edition from a couple of years ago.
I generally am not one to be swayed by wine cask matured of finished whiskies, but there have been some quite nice ones over the years. Let's see what this one brings us!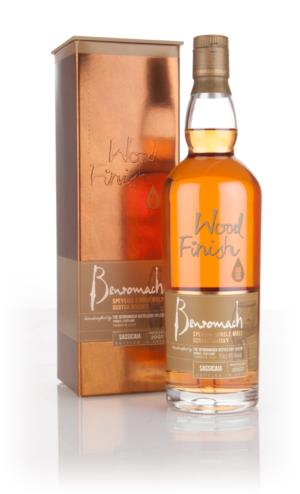 Sniff:
The wine influence is clear from the get go. It also gives the whisky a weird second layer. Like there is a lot of bourbon maturation wanting to be noticed, but also the wine casks. Lots of fruit, quite some malt and a lot of oak too. Red fruits like strawberry and a liqueur like sweetness. Quite heavy, but that's not unexpected for Benromach. Also, a but of a wine warehouse mustiness.
Sip:
The palate shows more of the very sweet wine influence. Oak and some peppery heat. Quite dry with a kind of red fruit compote flavor. Like stewed forest fruits (strawberries, raspberries, black berries, that kind of stuff).
Swallow:
The finish is smooth with lots of oak. It's of medium length and quite sweet again.
Well, what to say. Like this whisky, I'm a bit in doubt between two things.
On one hand it's a very decent and old fashioned Benromach, with a couple of years of maturation under its belt. The oak makes itself known and there are a lot of flavors to like or even love.
On the other hand there's the overly sweet wine influence, which is just a bit too much for me. The sweetness brings a lot of fruit flavors, but I think they're overdoing it just a bit.
In the end, I'm terribly sure there are a lot of people who'd love this whisky, but it's just not for me.
80/100
Benromach Sassicaia 2007 (bottled 2016), 45%.
It's not available yet, but will soon be. Knowing Benromach it'll be very fairly priced.
Thanks to Benromach for the sample!